Online Degree
Website Design & Development
Online Degree (featured in Forbes) is an online educational startup aimed at disrupting higher education by making college more accessible & affordable for everyone.  Through their partnerships with established educational institutions, they're able to offer free online classes that could potentially save students at least 25% on the cost of their degree.
Website URL
Project Type
Branding
Design
Responsive
SEO
Web Development
Wordpress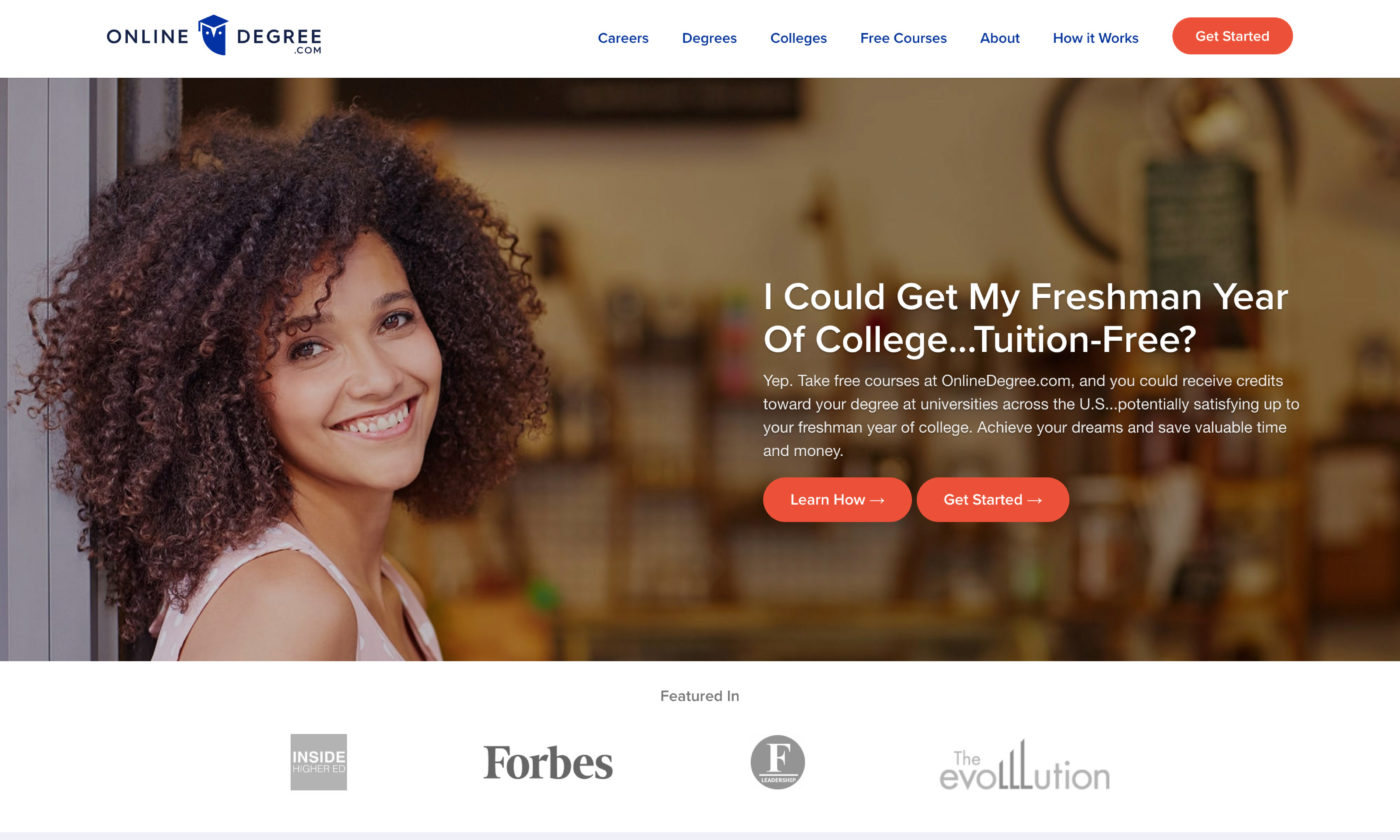 The Plan
Online Degree needed the ability to relate and present all of their various educational and career materials, while still maintaining the flexibility to adapt and grow as new planned and unplanned functionalities were added.
We worked closely with the team at Online Degree throughout the planning, design, and development process. We started by roadmapping their entire site architecture, planning the relationships between each data type, and determining the best way to store their data. With the plan laid out we developed a minimal proof of concept, bringing the wireframes to life, to get an early preview of what the user experience would function like. Simultaneously, we designed each unique page view — making information easy to access and digest, while streamlining the conversion process for the user. Finally we developed the backend of the website, powered by WordPress, which allowed the Online Degree team to easily input their data and manage content throughout the site.
After completion of the main informational website, we began on a similar process for the custom user registration functionality. The multi-page registration system (designed to make the process as streamlined for the user as possible) integrates with a third-party API to provide unique scholarships and opportunities to qualifying users. Along each step of the process we integrated various tracking and analytic functions to accurately report data on user behavior and their conversion rates.
The Results
We're thankful Online Degree entrusted our team with the opportunity and challenge of connecting all the dots for their project. Since it's launch, organic website traffic has continued to steadily increase, and they have a visitor-to-user conversion rate 7 times higher than the average.
These guys are incredibly impressive. I've worked with many outside groups on our projects or digital needs (large agencies, small freelancers, etc.) and the Meta guys are hands down the best ones. They're easy to work with, deliver on time, reasonably priced…and most importantly, always available during the day when you need them. Can that be said for any other agencies?? I've honestly cancelled working with anybody else. You'll love working with them.